ALTERNA CAVIAR REPLENISHING MOISTURE MASQUE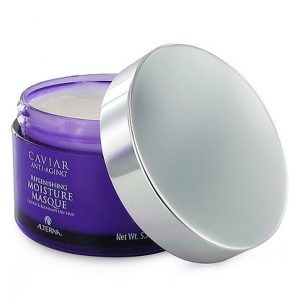 Alterna Anti-Aging products are the combination of latest technologies with valuable ingredients for hair hydration and rejuvenation. Alterna Caviar Replenishing Moisture is a deeply moisturising mask for all hair types, especially damaged hair. The anti-aging action has been combined with the effective repair.
Alterna Caviar Replenishing Moisture keeps hair properly hydrated, delivers essential nutrients, revitalizes dry and brittle hair. The cosmetic moisturises and locks water in hair that gets smooth, soft, elastic and glossy. Healthy and beautiful hairdo is the effect.
Ingredients analysis:
Alterna Caviar Anti-Aging is a range of hair care products that are based on caviar extract enriched with technologies and formulas devised by the brand. Replenishing Moisture mask is a mix of caviar with sea silk and valuable plant extracts. On the other hand, there are lots of harmful ingredients.
Alterna mask formula includes alcohols (also the ones that harm and dehydrate hair) and wheat and silk proteins. Lots of preservatives, strong silicones and substances that may cause irritation and clog the skin are the most worrying. There is no balance between good and bad components.
Alterna Caviar Replenishing Moisture is composed of:
Shea butter,
linseed oil,
algae extract,
wasabi extract,
fennel extract,
carrot extract.
Product's description:
Alterna Caviar Replenishing Moisture Masque has a nice scent that combines flower notes and sea freshness. The creamy formula contains slightly shimmering flecks. The consistency resembles butter.
Despite being thick, Alterna Anti-Aging Caviar mask is very cost-effective. After applying, it instantly absorbs and starts conditioning the hair. The price for 160 g is high but the product holds out even six months of use.
Positive opinions for:
the very long-lasting formula (up to six months),
effective action in warmer months,
coating hair with a nourishing and hydrating compress,
a pleasant, refreshing and relaxing scent.
Negative opinions for:
the possibility of dryness and frizz,
a definitely too high price, considering the effects,
too few emollients (unsuitable for winter time).