JOHN FRIEDA SHEER BLONDE HAIR REPAIR MASK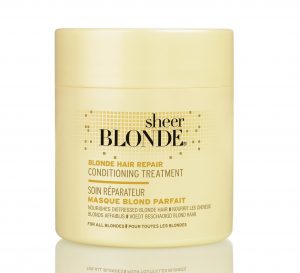 John Frieda offers products aimed at blonde hair care. An intensively nourishing mask for blonde hair is one of them. It is based on the patented technology that binds with hair and repairs damage. It also protects the fragile structure of fair hair.
Sheer Blonde Hair Repair is designed for naturally blonde hair, color-treated blondes and highlights. An amazing and luminous hair color, as well as a silky smooth finish, are the effects. John Frieda mask regenerates, illuminates, enhances hair looks and makes styling easier.
Ingredients analysis:
There are very few positive things about Sheer Blonde Hair Repair. The composition is disappointing. There are lots of damaging alcohols that may lead to irritation and dryness. Even the trace amounts of glycerol and good alcohols won't fix it.
John Frieda Sheer Blonder Hair Repair Mask formula contains lots of useless preservatives and comedogenic substances. Although it is enriched with a few plant extracts, the heavy castor oil is the only beneficial component. To make things worse, paraffin and silicones that are difficult to wash off.
John Frieda Sheer Blonder Hair Repair Mask is composed of:
castor oil,
grapeseed extract,
camomile extract,
lemon peel extract,
sunflower seed extract.
Product's description:
John Frieda Sheer Blonder Hair Repair Mask has a delicate, creamy consistency. It looks like a fluffy foam. The product has a nice, fresh, a bit herbal aroma (like SPA salon cosmetics).
One portion of the mask is enough for medium-length hair. The thick formula easily spreads on strands. Sadly, the cosmetic runs out quickly due to small capacity (150 ml) and rich consistency.
Positive opinions for:
easy combing (even wet hair),
leaving hair soft, smooth and shiny,
very quick and visible conditioning effect.
Negative opinions for:
the necessity for using the mask with the shampoo from the same range,
the formula being unsuitable for daily use,
the exorbitant price, considering the quality,
using the mask up quickly.