KÉRASTASE ELIXIR ULTIME BEAUTIFYING OIL MASQUE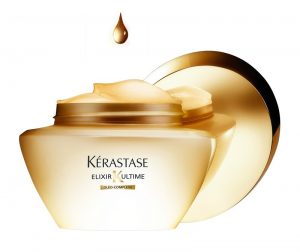 Kerastase is a luxury brand sold in many hair parlors. Its oil-based beautifying mask works for all hair types. It delivers an in-depth nourishing in hair lacking nutrients. If strands are exposed to external aggressors, Kerastase mask will provide them with protection and resilience. The cosmetic regenerates and increases natural shine.
The regular use of the mask gives soft-to-the-touch and noticeably strengthened hair. Two portions will do to upgrade the looks of weak hairdos. Kerastase Elixir Ultime works for fine and delicate hair due to the light consistency. The mask brings back bounce and elasticity in weighed-down hair.
Ingredients analysis
Elixir Ultime Beautifying Oil Masque is made up of four oils that gift hair with the right condition. However, you must go through a list of other ingredients before you find the oils. There are two bad alcohols that may cause irritation and glycerol.
The composition of Kerastase mask isn't all about alcohols, though. The cosmetic also contains mineral pearl pigments. Minerals always make a good cosmetic additive. On the other hand, it would be better if the product was free from a few preservatives and regulating substances.
Kerastase Elixir Ultime Masque is composed of:
corn sprout oil,
argan oil (Argania tree nuts),
camellia seed oil,
pracaxi oil (Pentaclethra macroloba).
Product's description
Kerastase hair mask has a very creamy consistency but it's mild and lightweight. It smells like a high-quality perfume and has a peach color. The product has nice gold shimmering particles; you wash them off together with the mask.
Elixir Ultime Beautifying Oil Masque comes in a plastic 200 ml jar, secured by a gold glittering cardboard box and cap in the same color. The price is typical of all Kerastase products – very high.
Positive opinions for:
the durability for a 200 ml packaging,
the effect of smoothness and softness on some hair types,
easier combing,
a nice fragrance that lingers on hair,
the consistency that doesn't make the application hard.
Negative opinions for:
a very high price which is inadequate to the quality,
weighing hair down after applying too much,
having to wait long for the repair of damaged hair,
not matching all hair types.