L'OREAL ELVIVE EXTRAORDINARY OIL MASK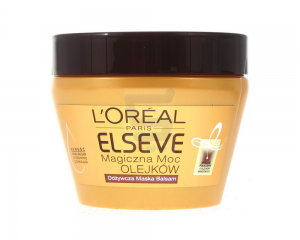 An excellent formula of Elvive Extraordinary Oil products again on sale. This time the brand offers a nourishing mask for dry hair. The manufacturer promises an intensive care, reinforcement and regeneration. The task of L'Oreal mask is saturating hair with nutrients, restoring softness and shine.
Extraordinary Oil Nourishing Mask leaves hair silky smooth after the first use. A proper composition of ingredients brings the right hydration, gloss and lightness. L'Oreal mask keeps hair from drying again and protects sensitive tips from damage.
Ingredients analysis
L'Oreal advertises Extraordinary Oil Mask as the blend of six natural flower oils. Let's clear that up – you will find three oils and four extracts among the ingredients. They have quite interesting properties. Other components include one moisturising alcohol and a set of minerals.
Elvive Extraordinary Oil Mask has a very rich composition. Sadly, it is not only the natural and plant substances. There is a silicone that is very hard to wash off and needs a very strong shampoo. The mask owes its color and aroma to artificial colorants and fragrances.
Elvive Extraordinary Oil Mask is composed of:
sunflower seed oil,
monoi oil (maceration of gardenia flowers and coconut oil),
soy oil,
camomile extract,
lotus extract,
linseed extract,
rose extract.
Product's description
L'Oreal mask has a rich, pudding-like consistency and caramel color. There are no problems with spreading it on hair. Despite the consistency, the mask is fast-absorbing and easy to wash off.
In comparison to other hair masks, Extraordinary Oil Mask has a large capacity. You get 300 ml for a nice price. You need little product to cover the hair so it holds out very long.
Positive opinions for:
the effective hydration and support for high porosity hair,
an unusual aroma during the application,
a very quick conditioning effect,
lasting long months,
easy application,
an affordable price.
Negative opinions for:
the possible greasy hair effect,
limited application (maximum twice a week).