MACADAMIA ULTRA RICH MOISTURE MASQUE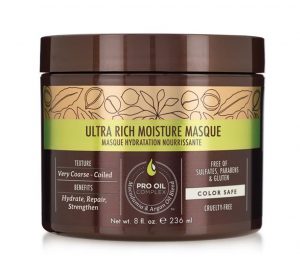 A professional, intensively moisturising hair mask with macadamia oil. It's a deeply hydrating treatment that helps lock water in hair. The mask is cut out for thick, dry and tangling hair. It helps rebuild damage and leaves hair stronger and smoother without overburdening.
Thanks to the complex of unique oils and extra nutrients, Macadamia mask doesn't only hydrate, repair and strengthen but also shields the sensitive hair structure and intensifies gloss. Summing up, Ultra Rich Moisture Masque makes a perfect choice for high porosity hair.
Ingredients analysis
Macadamia oil-based hair mask has really interesting ingredients. Apart from vegetable oils and natural butter, it contains wax extracted from the leaves of euphorbia. The benefits coming from the natural substances are enhanced by moisturizing good alcohol and glycerol.
Regrettably, the composition of Macadamia Ultra Rich Moisture Masque isn't all-natural. It includes one of the most harmful and heaviest silicones that can't be washed off with a regular shampoo. The product is also 'enriched' with needless preservatives, fragrances and synthetic colorants. On the other hand, it's free from parabens and SLS.
Macadamia Ultra Rich Moisture Masque is composed of:
Shea butter (Karité),
macadamia oil,
argan oil,
mongongo oil.
Product's description:
The hair mask is very creamy and thick. It has a delicate, apricot shade. The scent is characteristic for the whole range. Macadamia Ultra Rich Moisture Masque gives a sweet, caramel aroma that lasts very long. It's definitely an asset.
The capacity is non-standard – 236 ml. It's larger than most masks. You don't need much for one application so the product holds out a few months. All in all, the mask is good value for money, despite the price.
Positive opinions for:
the mind-blowing scent that stays after washing hair,
the consistency that makes the cosmetic hold out longer,
striking smoothness and softness,
effective hydration after regular use,
easy combing, even in extreme tangles.
Negative opinions for:
the high price for one packaging of a standard mask,
the possibility of weighing down if you apply too much,
better effects after using other products from the range.