ALTERNA BAMBOO SMOOTH KENDI INTENSE MOISTURE MASQUE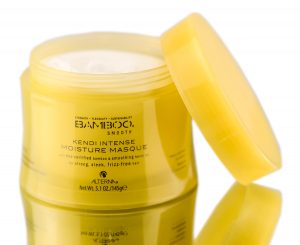 Bamboo Smooth Kendi range is best known for two styling oils. There is also a product that has a bit different formula yet similar main ingredients – an intense smoothing hair mask that prevents frizz. It aims at taming most unruly strands. Bamboo mask works for all hair types and daily use.
The product moisturises, nourishes hair from within and ensures an excellent smoothness. After the first application, the mask provides healthy-looking hairdo and restores natural shine. The main task of Alterna Kendi Intense Moisture Masque is defrizzing. The cosmetic reduces static and makes styling easier. If you use the mask regularly, it makes strands strong and elastic.
Ingredients analysis
Generally, the composition of Alterna Bamboo Smooth is very interesting. At first – a volatile silicone, next – a few good hydrating alcohols and glycerol. Obviously, young bamboo shoot extract is the main component. It has been enriched with UV filter and provitamin B5 (panthenol). All the ingredients are essential for hair.
The complex of natural oils and plant butters is as crucial and Alterna mask contains quite lots of them. If it wasn't for five preservatives and even more synthetic fragrances, the product would be a very interesting choice. On the other hand, it's free from parabens, phthalates, mineral oils, etc.
Alterna Kendi Mask is composed of:
Shea butter (Karité),
organic bamboo extract,
sunflower seed oil,
kukui oil,
moringa oil.
Product's description
Alterna Kendi Intense hair mask is very thick. The white, creamy formula looks like butter. Before applying, you must heat it up between palms. The cosmetic has a very nice scent but the price is discouraging.
If you get the hang of the application, the mask, that seems hard to use, will easily spread on strands. You need a little of the product to cover the hair. That's why the 150 ml Bamboo Kendi Intense lasts very long.
Positive opinions for:
a very good efficiency, despite small capacity,
a quick effect of softness and smoothness,
matching hair that needs hydration and repair,
the short application that is necessary for good effects,
easy detangling and styling.
Negative opinions for:
the possibility of leaving hair oily and weighed down,
the effect that vanishes the moment you stop using the mask,
a very high price that doesn't go with the quality,
a very thick formula that makes the application harder.