MOROCCANOIL RESTORATIVE HAIR MASK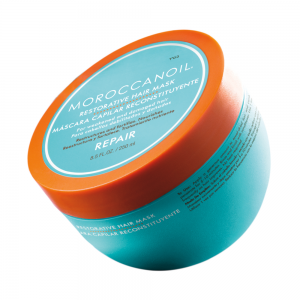 Apart from oil treatments, Moroccanoil offers hair masks. A strengthening mask for weak and damaged hair is the most popular. This restorative treatment has a precise aim. It enriches over-processed hair with essential proteins. The mask works quickly and effectively.
Moroccanoil Restorative Hair Mask is not just a regular regenerating product. It's a deeply repairing hair mask that aims at restoring resilience. The full set of valuable ingredients delivers the damage repair from within. Used at least once a week, Moroccanoil mask noticeably improves hair condition.
Ingredients analysis
One plant butter and three interesting exotic oils are the basis for the mask. Moreover, the mask contains vinegar acid rich in calcium and magnesium ions. The acid works as a humectant. The cosmetic includes hydrolyzed vegetable proteins.
Obviously, the product has some alcohols among the ingredients. Luckily, Moroccanoil Restorative Mask contains exclusively good alcohols that are harmless and deliver moisture. On the other hand, the brand could have skipped several fragrances that aren't natural.
Moroccanoil Restorative Hair Mask is composed of:
Shea butter (known as Karité butter),
argan oil (Argan tree nuts),
pequi oil (Caryocar brasiliense),
rapeseed oil (Canadian diversity of Canola).
Product description
Moroccanoil Restorative Hair Mask has a creamy consistency. Despite the thick formula, the product is delicate and fluffy. It has a very nice scent that stays on hair even up to two hair washes. Regrettably, you will pay lots of money for the mask.
Moroccanoil white mask easily spreads on hair, without sticking or weighing hair down. You don't need much for one application. The bottle houses 250 ml and is very cost-effective.
Positive opinions for:
incredibly soft hair after just one use,
a beautiful and long-lasting aroma,
a very lightweight formula that doesn't weigh hair down,
ideally matching damaged hair structure,
the consistency that increases the product's efficiency.
Negative opinions for:
a very high price for a hair mask,
recommendations to use the mask with other Moroccanoil products,
the protein formula that isn't suitable for all hair types.