KÉRASTASE NUTRITIVE OLEO-RELAX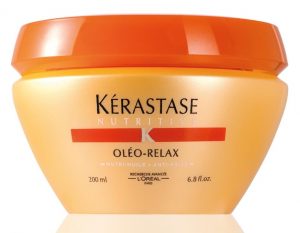 Kerastase has a wide range of intensive hair care products. A smoothing mask for thick, dry and unruly hair is one of them. Strands are silky smooth and manageable after just one use. Nutritive Oleo-Relax mask deeply nourishes, protects hair from dampness and tames the unwanted curl.
Kerastase Nutritive Oleo-Relax formula is based on latest technologies and natural ingredients. The mask provides velvety softness, restores natural shine, adds spectacular smoothness and detangles strands. Kerastase Nutritive Oleo-Relax equals hair hydration and nourishment without weighing down or oiliness.
Ingredients analysis
The list of components is quite short, considering other Kerastase products. A hydrating alcohol is one of the ingredients. The brand made a huge mistake adding just two oils to the mask. Unfortunately, the cosmetic turns out to have fewer natural substances than we wish for.
Instead of natural ingredients, we get a destructive and irritative alcohol. Three preservatives and a heavy silicone shouldn't be included in the mask. Potato starch, that works as a tackifier, is also useless and doesn't enhance the effects.
Kerastase Nutritive Oleo-Relax is composed of:
Product's description:
Kerastase Nutritive Oleo-Relax mask is very thick. It resembles a milky, orange gel. It keeps the same consistency after warming up so it can be a bit hard to apply. The aroma is similar to roses.
The price for 200 ml is quite high. To make things worse, it quickly runs out. You need a large quantity to cover strands inch by inch.
Positive opinions for:
the pleasant, rosy fragrance that calms senses,
the smoothness effect right after use,
easy combing after washing,
the lack of proteins, comparing it to other Kerastase masks.
Negative opinions for:
the poor efficiency, despite the standard capacity,
superficial effects,
definitely too high price, considering the quality.